These days I & Jessica are working for making subtitle of State of the Word by Matt Mullenweg.
[amara url=http://videos.videopress.com/cmA03MuQ/video-e27aceff48_dvd.mp4 width=480]
This year we asked WCUS Organizers to give us a shorthand data which used for a big display next to the stage and live streaming. So we can just fill some blank and correct some words which caption maker missed.
Here is a note how can we make subtitle from plain text.
Get caption data from WC organizer
The data we got from organizer was just plain text. There are no time marks. like this:
Modify format
With Amara.org, official WordPress.tv recommended tool for making subtitle, we can directly upload plain text with no time marks. Then we can sync with Amara.org editor UI.
At the first time when I uploaded original short hand script, I recognized that Amara.org will understand that the single break line is not the end of a subtitle. See the result.
So, I should just add break line twice between subtitles like this (Actually 10th line is wrong in this screenshot):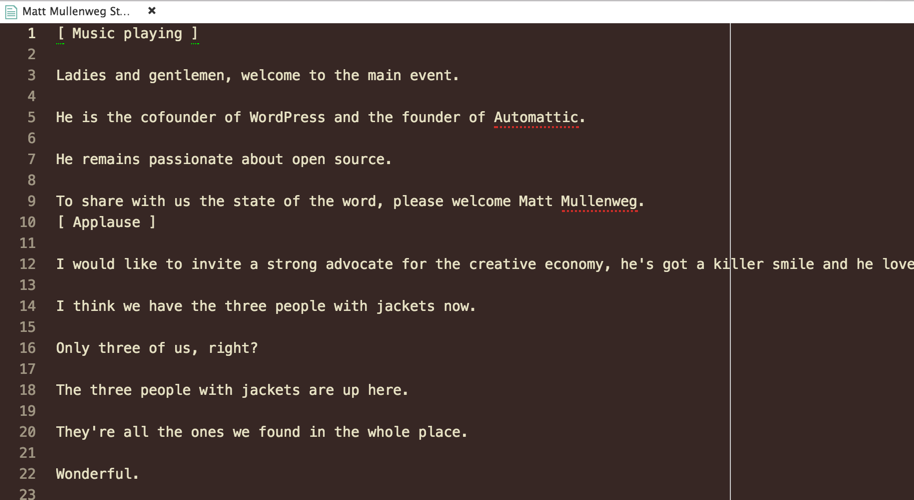 Just copy & paste and make break lines double!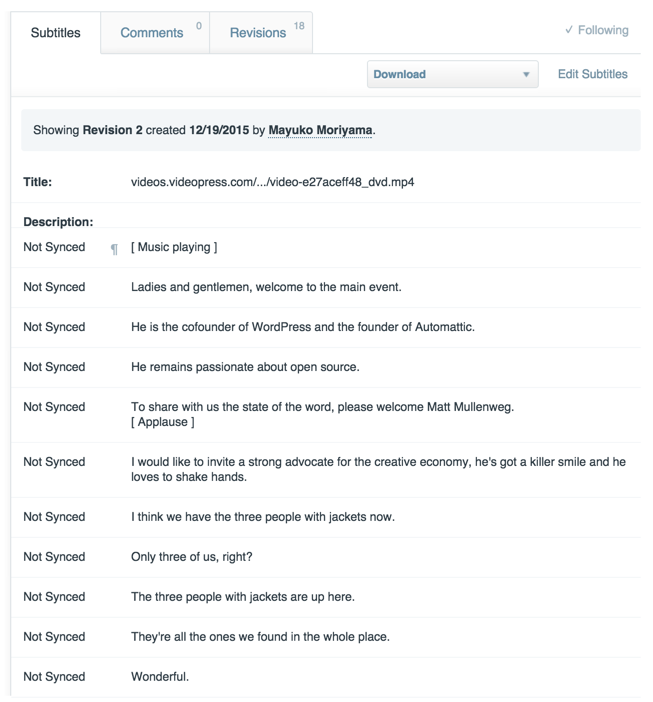 How to import subtitle data
If you haven't setup Amara.org watch this video:
After setup, you can go editor then click 🔧 mark > "Upload subtitles".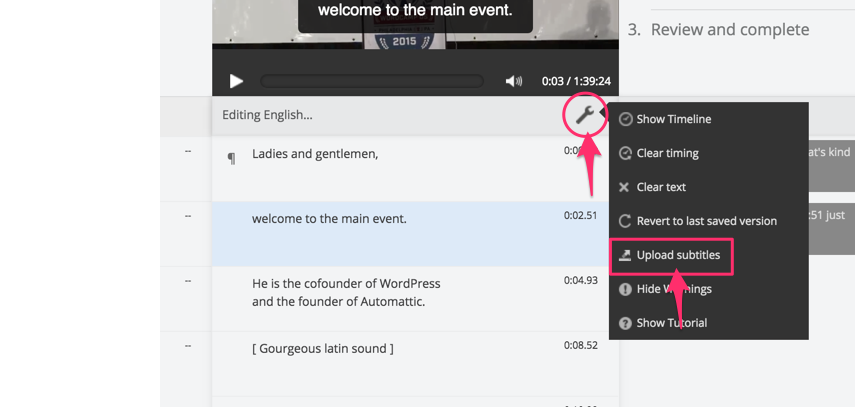 Then upload your text file.
If the imported subtitles is fizzy, just do this again. Remember, this will override all subtitles, not merge.
We need subtitle vaditation volunteers!
As I wrote on the beginning, we are fixing subtitles of State of the Word 2015. If you are interested to help, just go Amara.org and see the notes on the editor which tells you where you can start validation.
Last year, these people helped us to make subtitle of State of the Word:
[amara url=http://videos.videopress.com/GmPDhkyi/135_3_dvd.mp4]